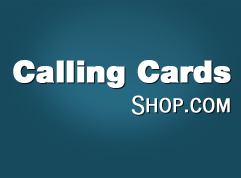 Calling Card Online Shopping Safety
Although most online calling card store are honest and provide good service, there are some fake or dishonest calling stores that offer either pure or no service for money.
Deceptive marketing strategies.
Many plastic and even online calling card are dishonestly hiding true information about calling cart type and service charges. In many such cases calling card claims "No Connection Fess", hiding per cal service fee deep in long and complicated disclaimer. Although such marketing is mostly used in traditional stores, some online calling cards still hide information misleading customers. Customers need to be aware of such practise and check store reputation, review and clear calling card description.
It is also important to report dishonest and fraudulent calling cards. Calling Card s a part of telecom is overseen in Canada by CRTC. Complaint about calling cards can be placed online on this CRTC complaint form.
One of the biggest advantages of online shopping for calling cards is ability to pay using a credit card. In case of pure or no service, misleading description or other fraudulent practise customer may complaint to credit card company and credit card company will effectively dispute the charge in customer behalf. No matter how small is your claim, your credit card company will dispute fraudulent charge for you. This practise is much more effective then complaining to Better Business Bureau or Consumer Protections Agency. Read more on calling card online shopping safety.